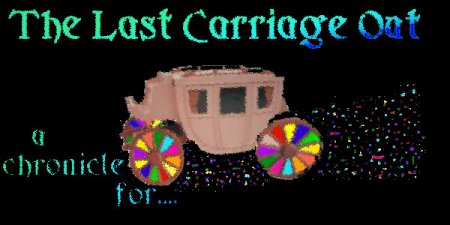 This is a chronicle based in Flint, MI, run by Matt Byk. We are currently looking for players.
Email Matt at thunderfist@lastcarriageout.freeservers.com if you're interested.
History
Faces
Story
Places
Links
What the heck is this, anyway?
How to join.

Last Updated - July 25, 2000
This page, The Last Carriage Out, and all original content ©2000, Widard of Odd Productions.
Changeling: The Dreaming and all other references to the game ©2000 White Wolf Publishing Inc. All Rights Reserved
All references to other web pages are copyright their authors.